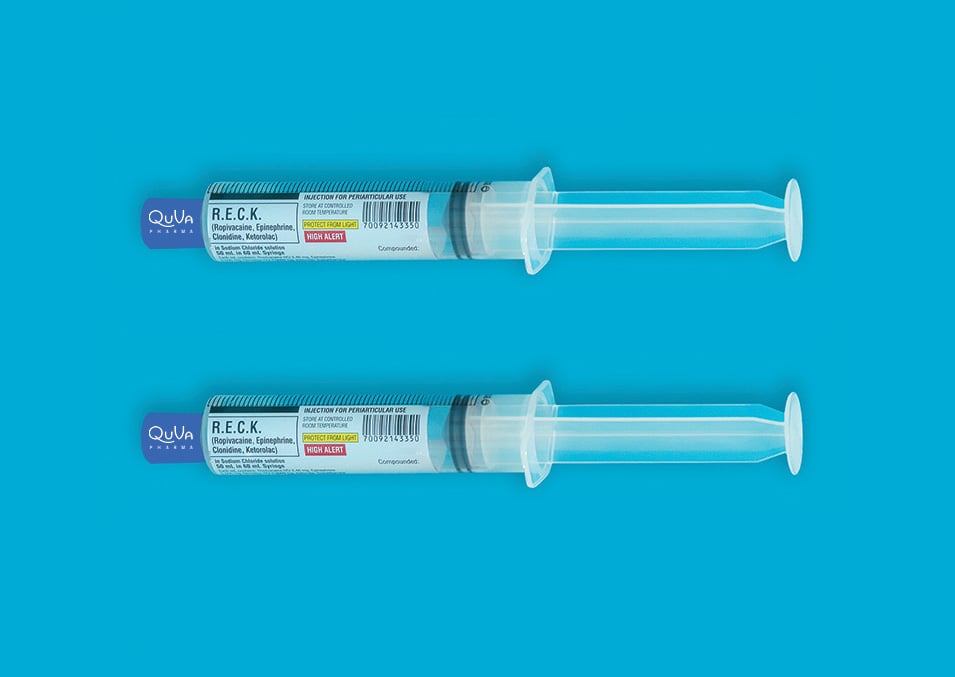 Ask your hospital pharmacy to order today or
CLICK HERE to email QuVa directly so we can follow up with your pharmacy.
Ready-to-Administer

R.E.C.K.
For Periarticular Injection
(Ropivacaine, Epinephrine, Clonidine, & Ketorolac in Sodium Chloride Solution, 50 ml Fill, 50 ml Syringe
Patented formula containing epinephrine*
The ready-to-administer syringe makes it easy for the operating room team to decant from the syringe and draw up into the surgeon's preferred syringe and needle combination
100 ml total dose1 is achieved with two 50 ml syringes as each 50 ml contains:

123 mg ropivacaine
0.25 mg epinephrine
0.04 mg clonidine
15 mg ketorolac

Ready-to-administer syringe:

Supports local infiltration anesthesia which is a mainstay of multimodal pain management
Eliminates the need to compound in the hospital or mix products in the O.R.
90-day beyond use date helps reduce waste

Supplied by an FDA registered 503B outsourcing facility
Shipped directly to your hospital pharmacy and available in all 50 states
PRODUCT #
PRODUCT DESCRIPTION
PRODUCT SOURCE
BUD
(DAYS)
CASE
QUANTITY
70092143350
R.E.C.K. (Ropivacaine, Epinephrine, Clonidine, Ketorolac) in Sodium Chloride Solution, 50 ml fill, 50 ml Syringe
API to Sterile
90
5
*Patented formula
1 Kelley, Todd C et al. "Efficacy of multimodal perioperative analgesia protocol with periarticular medication injection in total knee arthroplasty: a randomized, double-blinded study." The Journal of arthroplasty vol. 28,8 (2013): 1274-7.