Given increasing regulatory requirements for sterile compounding, it is likely you are beginning to feel the growing pressures associated with compounding including tightening regulations, shorter BUDs, waste reduction initiatives, risk mitigation and increases in quality control.
Additional resources that expand your pharmacy operation
QuVa's fundamental purpose is to provide your hospital pharmacy the additional qualified resources so that you can focus more time on improving health care delivery, patient safety, and clinical outcomes.
503B outsourcing can assist hospital pharmacy by freeing up time and capital that may otherwise be spent compounding products in the hospital pharmacy. It can also reduce the regulatory and compliance risk associated with increasing requirements for hospitals doing their own sterile product compounding.
Outsourcing enables your Pharmacy to easily obtain ready-to-administer syringes, bags, and PCAs so you can focus more on important tasks of patient care and other operational activities.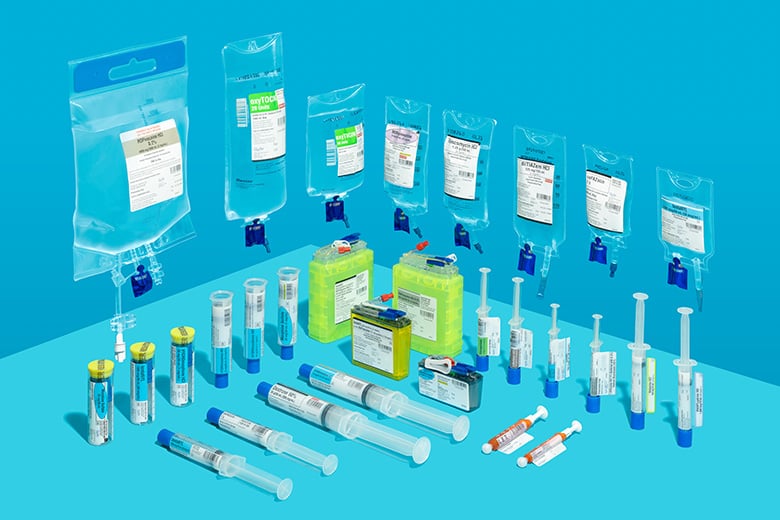 QuVa Pharma Sterile Product Portfolio
QuVa uses only FDA-approved, commercially available sterile starting material when producing sterile-to-sterile compounded sterile products (CSPs).
We provide essential CSPs to support labor & delivery, anesthesia & OR, general medicine, cardiovascular, anti-infective, and pain management. Some of our most requested medications are Morphine, Fentanyl, Oxytocin, Epinephrine, Ephedrine, Rocuronium, Neostigmine, Norepinephrine, Phenylephrine, Succinylcholine, Vancomycin, Cefazolin, and Fentanyl/Bupivacaine epidurals.

QuVa offers specialty admixtures in IV bags, syringes, CADD cassettes, PCA vials and pharmacy bulk bag packaging.
More than 90% of QuVa's Portfolio has a 90-Day BUD
Therapeutic Classes
Anti-Infective

Anesthesia & OR

Cardiovascular

General Medicine

Labor & Delivery

Pain Management
Product Types
Antibiotics

Anticoagulants

Antihypertensives

Cardioplegia

Electrolytes

Epidural

Local Anesthetics

Opiod Analgesics

Sedatives

Vasopressors
Product presentations
Syringes
3 mL . 5 mL . 10 mL . 20 mL . 50 mL . 60 mL
IV Bags
1 L . 500 mL . 250 mL . 125 mL . 100 mL 50 mL
Better quality control, better operating efficiency, better patient care
QuVa is a trustworthy and dependable resource for compounded sterile products. In partnership with our customers, QuVa is always looking ahead to help track usage trends and anticipate shortages and needs, so you are served with a ready and consistent supply of high-quality medications.