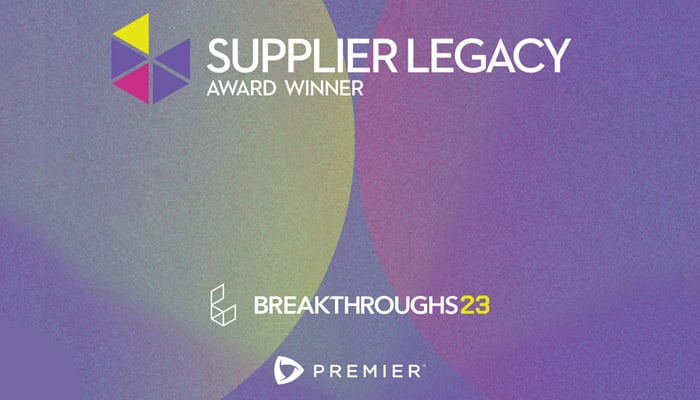 Company recognized in the RX – Brand line of business for its long-standing work and partnership supporting Premier, Inc's hospital and health system membership
Sugar Land, TX – June 27, 2023 – QuVa Pharma, Inc. announced today that it received the 2023 Supplier Legacy Award from Premier, Inc., a leading healthcare improvement and technology company that unites an alliance of more than 4,400 U.S. hospitals and health systems and approximately 250,000 other providers and organizations.
QuVa was recognized for its long-standing support of Premier members through exceptional local customer service and engagement, value creation through clinical excellence, and commitment to lower costs. Supplier Legacy Award winners have a tenure of more than three years as a Premier contracted supplier.
"We are honored to be recognized by Premier as a 2023 Supplier Legacy Award winner. We value the partnership with Premier and its membership and remain committed to providing them peace of mind through developing and delivering the highest quality 503B services and solutions that allow them to excel in their roles," said Michael Scouvart, Chief Commercial Officer at QuVa. "We understand that quality, reliability, and greater access to sterile injectables medicines are paramount for hospitals and health systems to address the myriad of issues they face in today's pharmaceutical supply chain, and QuVa backs that with a service oriented approach and continued investments in our platform and capabilities to ensure customers always have an answer. Each of QuVa's over 1,000 colleagues are proud to know that the work they do every day is recognized and valued by Premier and its members, and ultimately results in higher quality and safer patient care."
"QuVa supports Premier members by offering valuable products and services that help to lower supply chain costs and improve operating efficiencies," said David A. Hargraves, Senior Vice President, Supply Chain at Premier. "Given the current economic times and post pandemic supply chain challenges, we're honored to recognize QuVa as a Supplier Legacy Award recipient."
The Supplier Legacy Award was formally presented to QuVa Pharma on June 21, 2023, at Premier's annual Breakthroughs Conference & Exhibition.
For product ordering inquiries please contact QuVa Pharma Customer Service at 888.339.0874 or via email at: Customer.Service@QuVaPharma.com.
For media inquiries please contact Chris.Detore@QuVaPharma.com.