Every time you click "interested" on your Ordering Portal, you get to share your voice in the new product development process.
Based on our customers' interest, QuVa is pleased to announce the new launch of Cefazolin 3 gm added to 100 ml 0.9% Sodium Chloride Solution IV bags, which complements our portfolio of four other ready-to-administer Cefazolin products.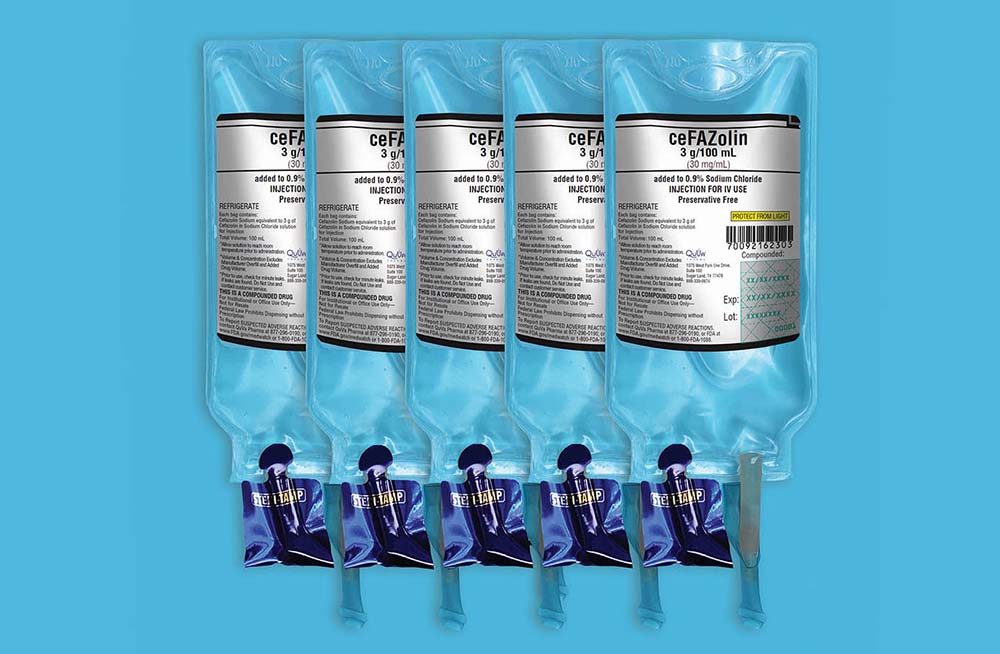 Cefazolin 3 gm IV bag with extended 60—Day BUD
Product Details
Complements our existing portfolio of Cefazolin products, all with extended 60-day BUD due to QuVa's proprietary manufacturing process
Now 5 total Cefazolin products in both pre-filled syringes and IV bags
Products are supplied in a light-protective overwrap
If you are not a current customer and would like to order, click "Become A Customer" button at the top of the page to set up a profile and begin ordering.
Cefazolin Products with Extended 60-day BUDs
PRODUCT #
PRODUCT DESCRIPTION
PRODUCT SOURCE
BUD
(DAYS)
CASE
QUANTITY
70092160346
Cefazolin 1 gm (100 mg/ml) in Sterile Water, 10 ml fill, 10 ml Syringe (PF)
Sterile to Sterile
60
5
70092160447
Cefazolin 2 gm (100 mg/ml) in Sterile Water, 20 ml fill, 20 ml Syringe (PF)
Sterile to Sterile
60
5
70092162115
Cefazolin 2 gm added to 100 ml 5% Dextrose Solution Bag (PF)
Sterile to Sterile
60
12
70092162203
Cefazolin 2 gm added to 100 ml 0.9 % Sodium Chloride Solution Bag (PF)
Sterile to Sterile
60
12
70092162303
Cefazolin 3 gm added to 100 ml 0.9% Sodium Chloride Solution Bag (PF)
Sterile to Sterile
60
12